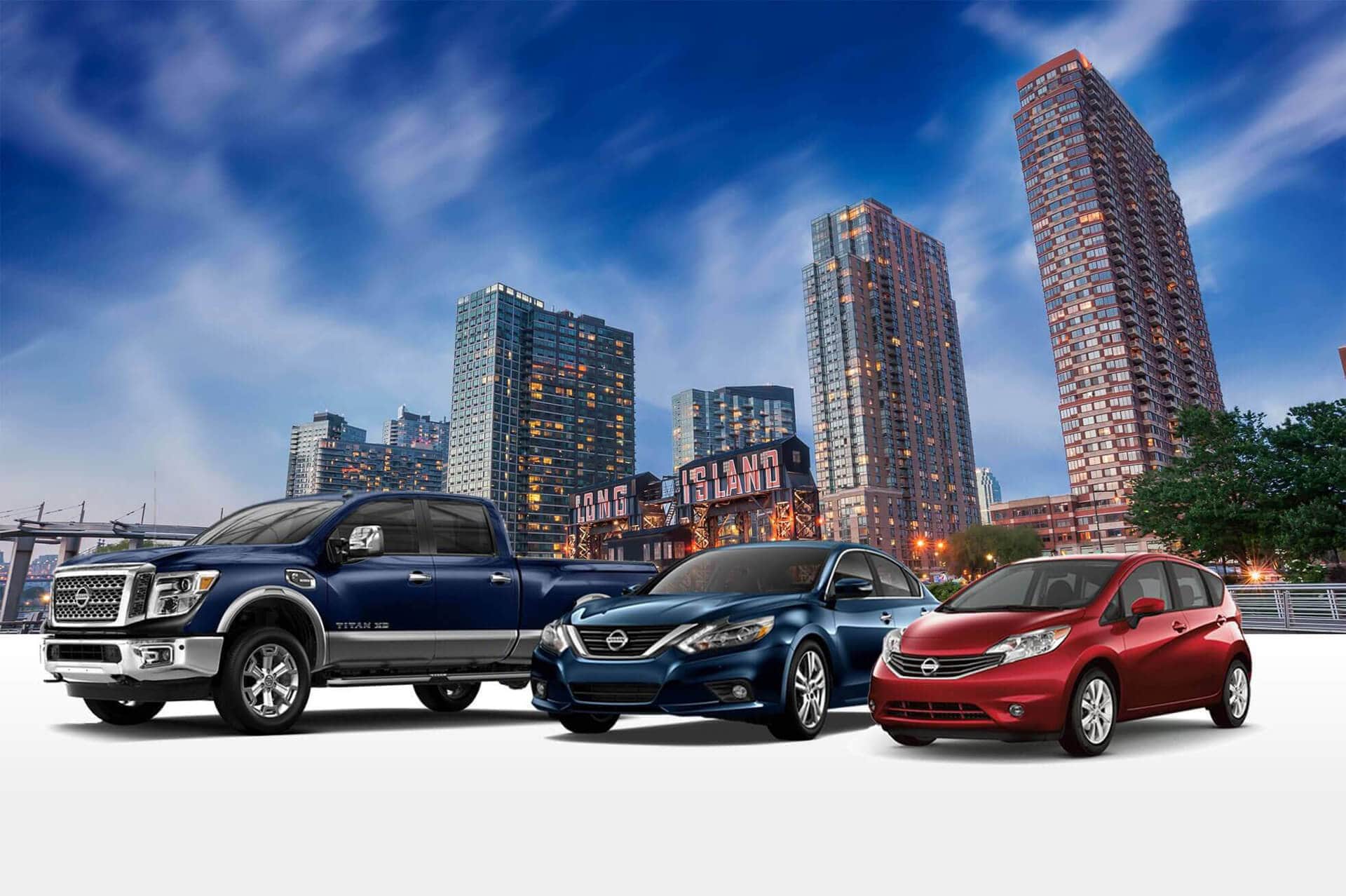 Welcome To Nissan 112
At Nissan 112 in Patchogue, NY, you can always expect more and pay less. We offer exemplary sales and service in person, a superior selection of vehicles, as well as an interactive website chock-full of helpful tools. We have one of the largest inventories in the Northeast Region, with more than 800 new Nissans and more than 150 pre-owned vehicles in stock and ready for you. Ask our friendly and knowledgeable salespeople about a new Nissan car, truck or SUV in New York, like a Nissan Altima, Nissan Rogue, Nissan Sentra or a Nissan Pathfinder. Check out our internet specials on New and Used vehicles and get your next vehicle at great savings. You can also take advantage of our website to schedule your service appointment, reserve a Nissan Rental Car or Truck, check your credit, or get pre-approved for an auto loan. These are just a few ways we meet our goal of giving you a hassle-free, friendly automotive experience.

Nobody knows your Nissan vehicle like the highly-trained service technicians at Nissan 112. So trust the local experts to take good care of your vehicle and keep it running like the day you drove it home. Whatever your service and maintenance needs - from oil changes to that occasional warranty work or an extensive engine repair, you can expect quality work performed in a timely manner using the latest technology and equipment at a great price.

We have families and busy schedules just like you, so we take great pride in offering extended hours to help you work important maintenance and repair into your schedule.
What Our Customers Have to Say.
Chuck123
"This was the BEST car shopping experience i've ever had"
2019-06-04 00:00:00

I walked into the showroom on Sunday afternoon with the intent of just looking at the vehicles I was interested in before my lease expired from another auto maker. In the 30+ years I've been dealing with various auto dealers, this was by far BEST car buying/leasing experience I've ever had. Jason, my salesperson, was only interested in getting me what I wanted, there was no stress or pressure in having to make a decision. The purchase process was smooth, easy, no issues, no stress and I got the exact car I wanted and walked out of there paying less than expected. I will be dealing with this dealership only from now on, and will definitely recommend them to anyone.
Norman Neill
2019-05-28 00:00:00

Eric, Is by far the friendliest most knowledgeable and accomadating salesman I have ever encountered. You are very lucky to have him.
kristin feldmann
2019-06-11 00:00:00

I dont think they could have done a better job. They fed us the place was clean they showed us everything about the car, let us test drive a bunch of different vehicles. And one of my all time favorites the paperwork was done fast and painless. They were fabulous
donna molina
2019-04-25 00:00:00

Always courteous. Always friendly. Great car dealership
Sales
Monday 9:00AM - 9:00PM
Tuesday 9:00AM - 9:00PM
Wednesday 9:00AM - 9:00PM
Thursday 9:00AM - 9:00PM
Friday 9:00AM - 9:00PM
Saturday 9:00AM - 6:00PM
Sunday 11:00AM - 5:00PM
Service
Monday 7:30AM - 5:30PM
Tuesday 7:30AM - 7:00PM
Wednesday 7:30AM - 5:30PM
Thursday 7:30AM - 7:00PM
Friday 7:30AM - 5:30PM
Saturday 7:30AM - 4:30PM
Sunday Closed
Parts
Monday 8:00AM - 5:00PM
Tuesday 8:00AM - 5:00PM
Wednesday 8:00AM - 5:00PM
Thursday 8:00AM - 5:00PM
Friday 8:00AM - 5:00PM
Saturday 8:00AM - 4:30PM
Sunday Closed