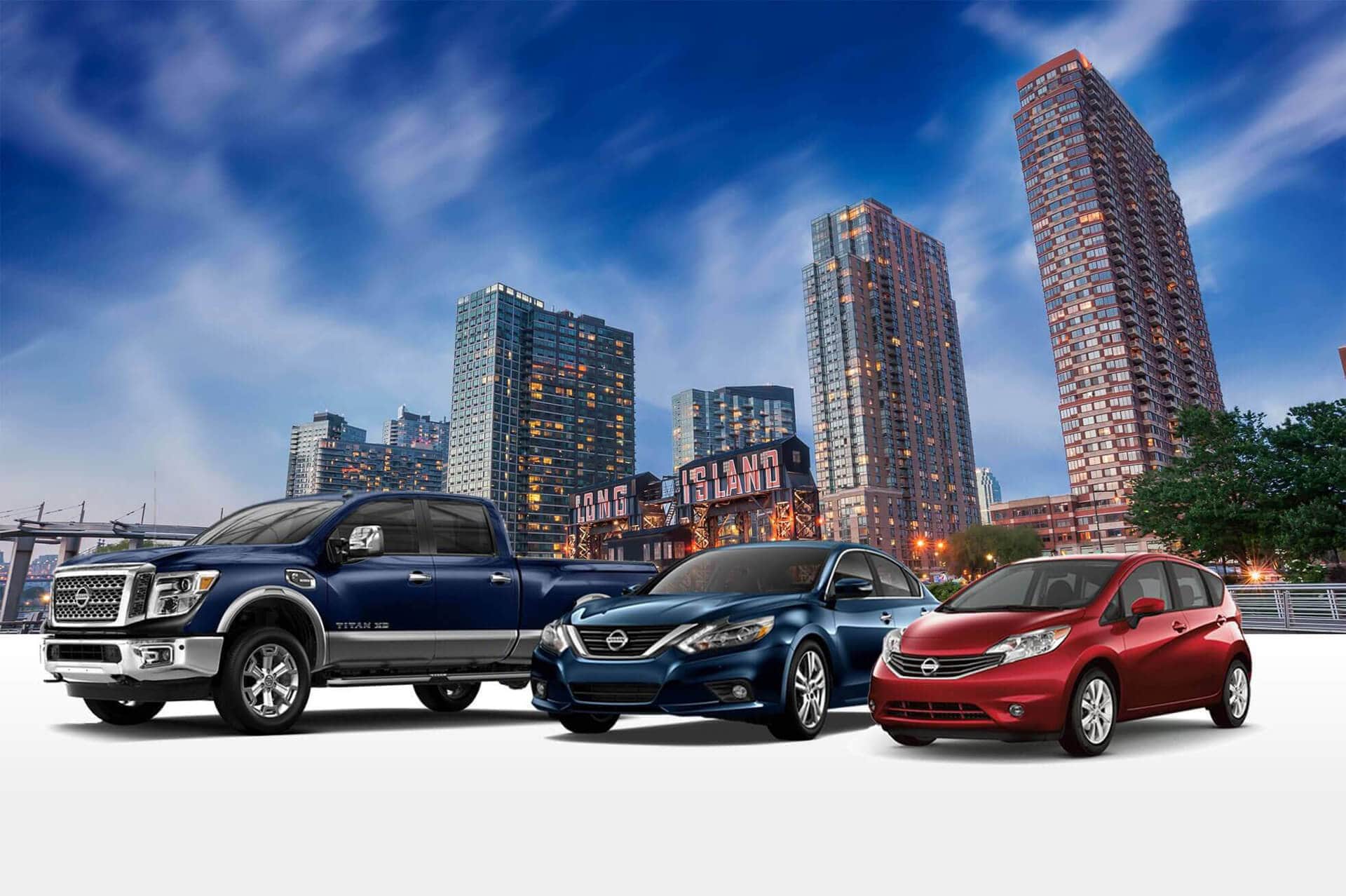 Welcome To Nissan 112
At Nissan 112 in Patchogue, NY, you can always expect more and pay less. We offer exemplary sales and service in person, a superior selection of vehicles, as well as an interactive website chock-full of helpful tools. We have one of the largest inventories in the Northeast Region, with more than 800 new Nissans and more than 150 pre-owned vehicles in stock and ready for you. Ask our friendly and knowledgeable salespeople about a new Nissan car, truck or SUV in New York, like a Nissan Altima, Nissan Rogue, Nissan Sentra or a Nissan Pathfinder. Check out our internet specials on New and Used vehicles and get your next vehicle at great savings. You can also take advantage of our website to schedule your service appointment, reserve a Nissan Rental Car or Truck, check your credit, or get pre-approved for an auto loan. These are just a few ways we meet our goal of giving you a hassle-free, friendly automotive experience.

Nobody knows your Nissan vehicle like the highly-trained service technicians at Nissan 112. So trust the local experts to take good care of your vehicle and keep it running like the day you drove it home. Whatever your service and maintenance needs - from oil changes to that occasional warranty work or an extensive engine repair, you can expect quality work performed in a timely manner using the latest technology and equipment at a great price.

We have families and busy schedules just like you, so we take great pride in offering extended hours to help you work important maintenance and repair into your schedule.
What Our Customers Have to Say.
Jose torres
2019-11-14 00:00:00

Diego and Jean were awesome and absolutely provided exceptional service. Thank You
Brad Samuel
2019-11-08 22:00:00

Nissan reset my Nissan Connect. Thank you very much.
Shawn Hendry
2019-10-22 12:00:00

Went for a recall on airbag inflation system. Clean. Nice atmosphere. Friendly customer service. Took longer than expected, but the time estimate was not done by 112 nissan, it was given by the recall call center. Overall repair made me very happy.
Diane Zimmerman
2019-11-01 11:00:00

have always had a great experience. easy to make appointment when I need it. I always get in quickly and work is done quickly.
Ezekiel Lukeman
2019-10-27 11:00:00

Easy and fast process. Very communicative. Great experience for a first time lease because all necessary information was given upfront. And the car is wonderful too!!
Sales
Monday 9:00AM - 9:00PM
Tuesday 9:00AM - 9:00PM
Wednesday 9:00AM - 9:00PM
Thursday 9:00AM - 9:00PM
Friday 9:00AM - 9:00PM
Saturday 9:00AM - 6:00PM
Sunday 11:00AM - 5:00PM
Service
Monday 7:30AM - 5:30PM
Tuesday 7:30AM - 7:00PM
Wednesday 7:30AM - 5:30PM
Thursday 7:30AM - 7:00PM
Friday 7:30AM - 5:30PM
Saturday 7:30AM - 4:30PM
Sunday Closed
Parts
Monday 8:00AM - 5:00PM
Tuesday 8:00AM - 5:00PM
Wednesday 8:00AM - 5:00PM
Thursday 8:00AM - 5:00PM
Friday 8:00AM - 5:00PM
Saturday 8:00AM - 4:30PM
Sunday Closed