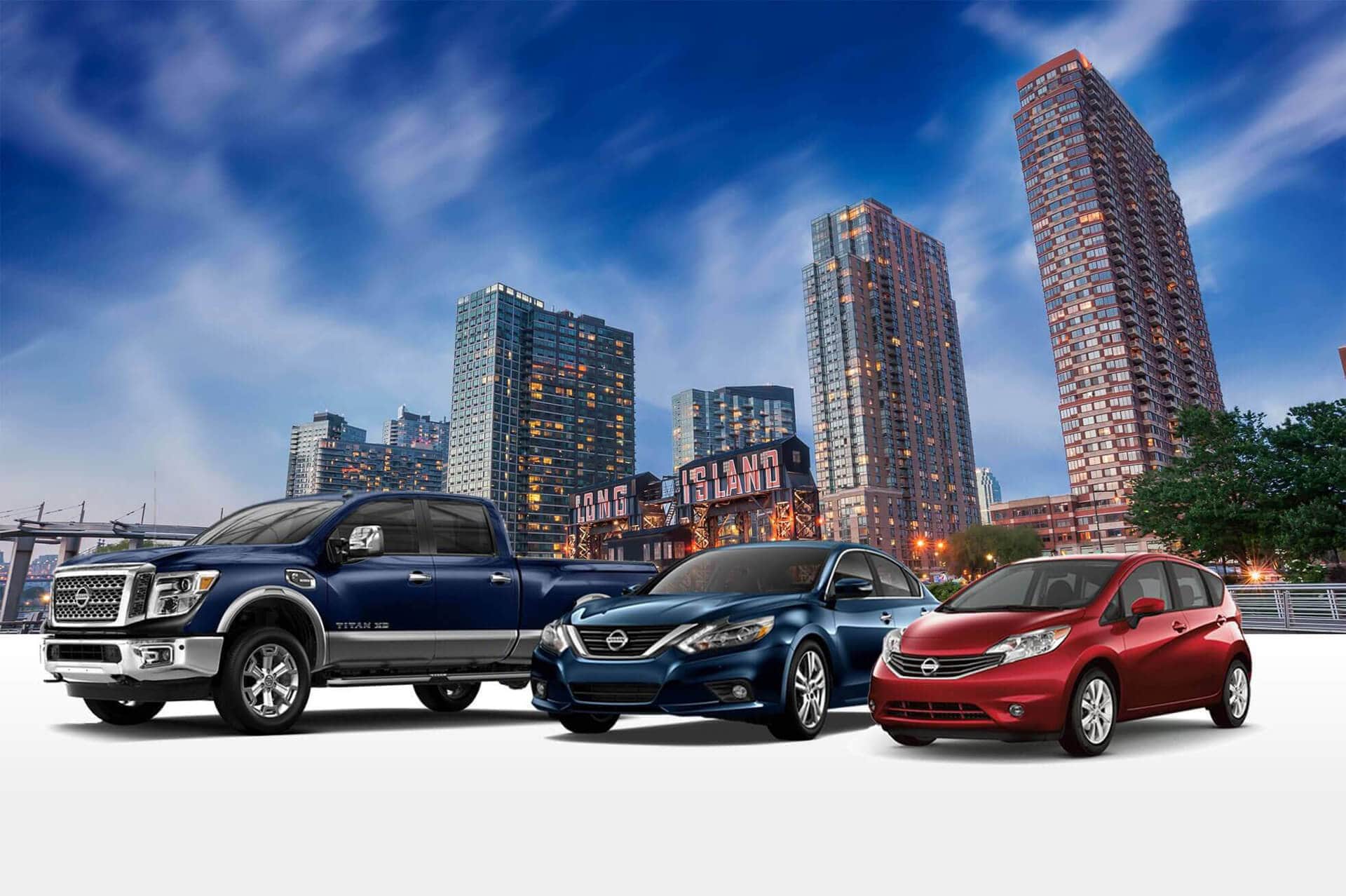 Welcome To Nissan 112
At Nissan 112 in Patchogue, NY, you can always expect more and pay less. We offer exemplary sales and service in person, a superior selection of vehicles, as well as an interactive website chock-full of helpful tools. We have one of the largest inventories in the Northeast Region, with more than 800 new Nissans and more than 150 pre-owned vehicles in stock and ready for you. Ask our friendly and knowledgeable salespeople about a new Nissan car, truck or SUV in New York, like a Nissan Altima, Nissan Rogue, Nissan Sentra or a Nissan Pathfinder. Check out our internet specials on New and Used vehicles and get your next vehicle at great savings. You can also take advantage of our website to schedule your service appointment, reserve a Nissan Rental Car or Truck, check your credit, or get pre-approved for an auto loan. These are just a few ways we meet our goal of giving you a hassle-free, friendly automotive experience.

Nobody knows your Nissan vehicle like the highly-trained service technicians at Nissan 112. So trust the local experts to take good care of your vehicle and keep it running like the day you drove it home. Whatever your service and maintenance needs - from oil changes to that occasional warranty work or an extensive engine repair, you can expect quality work performed in a timely manner using the latest technology and equipment at a great price.

We have families and busy schedules just like you, so we take great pride in offering extended hours to help you work important maintenance and repair into your schedule.
What Our Customers Have to Say.
Ely Klagsbrun
2020-04-29 21:00:00

When my car arrived, I was amazed that the deal could be arranged and done with so little need for contact with the Nissan 112 dealership. That's how seamless it was. It's a great car and a great deal.
John Rak
2020-05-12 08:00:00

Mike the sales man that worked with me was efficient honest and gave me great service on procuring the lease on my new Maxima would highly recommend
Dave Cion
2020-05-23 19:00:00

Outstanding
Eugenio Vargas
2020-05-30 22:00:00

Everything was good. And the beautiful women that work there doesn't hurt
Laurie Gage
2020-05-26 14:00:00

Gwen was fabulous - made my purchase during a pandemic seamless!
Sales
Monday 9:00AM - 7:00PM
Tuesday 9:00AM - 7:00PM
Wednesday 9:00AM - 7:00PM
Thursday 9:00AM - 7:00PM
Friday 9:00AM - 7:00PM
Saturday 9:00AM - 5:00PM
Sunday 11:00AM - 5:00PM
Service
Monday 7:30AM - 4:30PM
Tuesday 7:30AM - 4:30PM
Wednesday 7:30AM - 4:30PM
Thursday 7:30AM - 4:30PM
Friday 7:30AM - 4:30PM
Saturday 7:30AM - 4:30PM
Sunday Closed
Parts
Monday 7:30AM - 4:30PM
Tuesday 7:30AM - 4:30PM
Wednesday 7:30AM - 4:30PM
Thursday 7:30AM - 4:30PM
Friday 7:30AM - 4:30PM
Saturday 7:30AM - 4:30PM
Sunday Closed