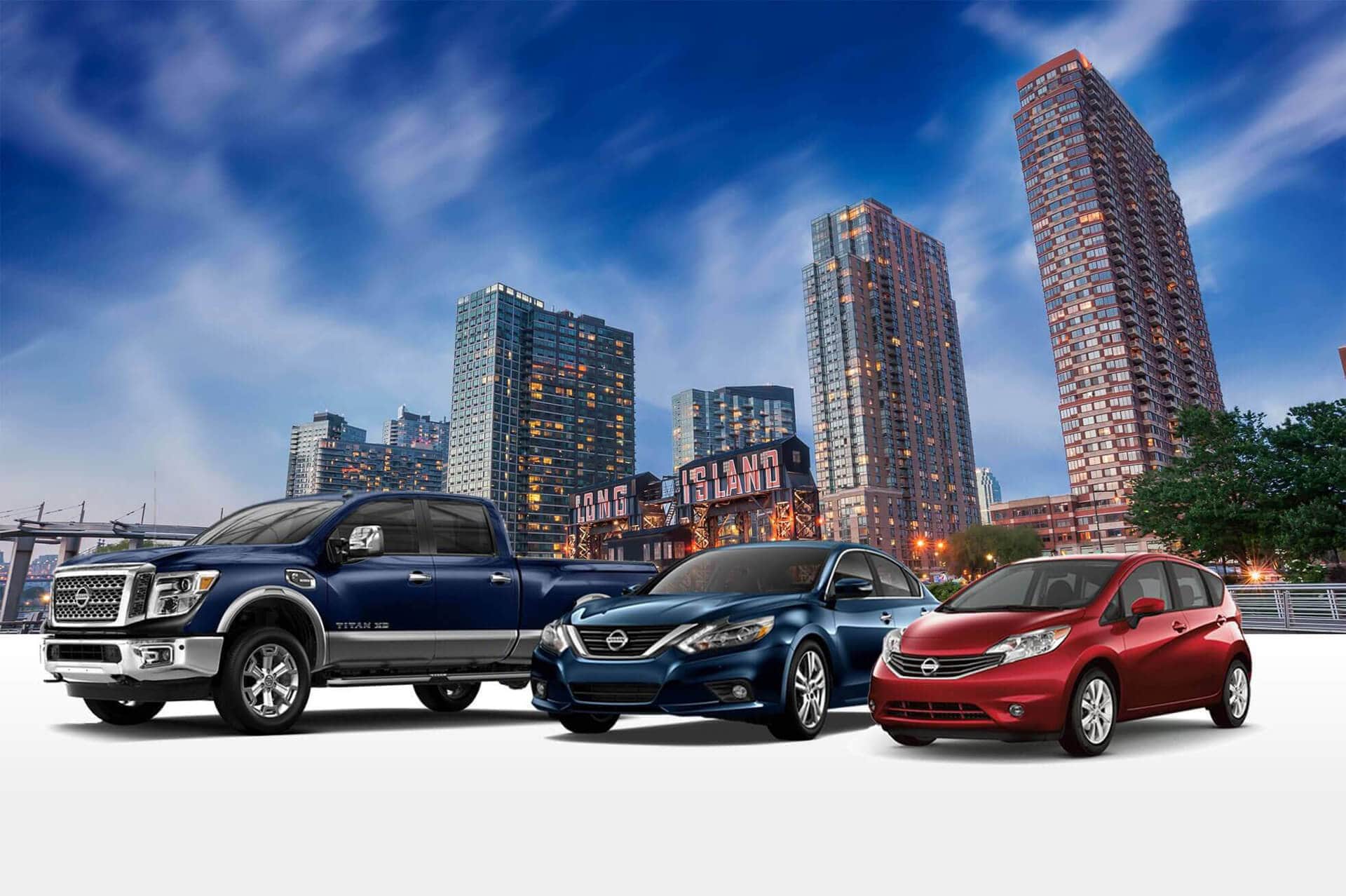 Welcome To Nissan 112
At Nissan 112 in Patchogue, NY, you can always expect more and pay less. We offer exemplary sales and service in person, a superior selection of vehicles, as well as an interactive website chock-full of helpful tools. We have one of the largest inventories in the Northeast Region, with more than 800 new Nissans and more than 150 pre-owned vehicles in stock and ready for you. Ask our friendly and knowledgeable salespeople about a new Nissan car, truck or SUV in New York, like a Nissan Altima, Nissan Rogue, Nissan Sentra or a Nissan Pathfinder. Check out our internet specials on New and Used vehicles and get your next vehicle at great savings. You can also take advantage of our website to schedule your service appointment, reserve a Nissan Rental Car or Truck, check your credit, or get pre-approved for an auto loan. These are just a few ways we meet our goal of giving you a hassle-free, friendly automotive experience.

Nobody knows your Nissan vehicle like the highly-trained service technicians at Nissan 112. So trust the local experts to take good care of your vehicle and keep it running like the day you drove it home. Whatever your service and maintenance needs - from oil changes to that occasional warranty work or an extensive engine repair, you can expect quality work performed in a timely manner using the latest technology and equipment at a great price.

We have families and busy schedules just like you, so we take great pride in offering extended hours to help you work important maintenance and repair into your schedule.
What Our Customers Have to Say.
Mike Smith
2019-07-31 00:00:00

Dennis Nixon is the person to see. This is my 5th vehicle purchased from Dennis at Nissan 112 and he always go above and beyond to help Thank you.
melissa Incantalupo
2019-08-07 00:00:00

I worked with Jenn on my lease and I couldn't be happier. She was attentive and met all my needs in a vehicle. I will absolutely be recommending and using Nissan 112 again
Damon Kurtzberg
2019-07-26 00:00:00

If you are nice to them. They will be nice to you. 2nd new car from them in the past 3 years. Top notch and professional to the tilt.
DoctorK
"Go here for a LEAF"
2019-07-18 00:00:00

I have dealt with a lot of car dealerships in the past and I am usually trying to figure out how they are going to rip me off. This is the second time I have bought/leased a car from Nissan 112 and both times I was delighted that there was no catch. No bait and switch, no high pressure sales, no unexpected last minute fees. Ask for Chris Kunzler. He is up front and honest and will try to find you a good deal. He knows about the LEAF and it's special deals which a lot of dealers do not.
catherine Jones
2019-08-12 00:00:00

Omg had a great experience. Diego was one of the salesmen that helped us out of a situation. He was very very very nice and helpful. He didnt tell us bs and wasted our time. He was forthcoming with everything. … More Omg had a great experience. Diego was one of the salesmen that helped us out of a situation. He was very very very nice and helpful. He didnt tell us bs and wasted our time. He was forthcoming with everything. If you find yourself here definitely ask for Diego if he ain't there then leave and come back when be is lol lol Everyone was pleasant though. No bad vibes ❤
Sales
Monday 9:00AM - 9:00PM
Tuesday 9:00AM - 9:00PM
Wednesday 9:00AM - 9:00PM
Thursday 9:00AM - 9:00PM
Friday 9:00AM - 9:00PM
Saturday 9:00AM - 6:00PM
Sunday 11:00AM - 5:00PM
Service
Monday 7:30AM - 5:30PM
Tuesday 7:30AM - 7:00PM
Wednesday 7:30AM - 5:30PM
Thursday 7:30AM - 7:00PM
Friday 7:30AM - 5:30PM
Saturday 7:30AM - 4:30PM
Sunday Closed
Parts
Monday 8:00AM - 5:00PM
Tuesday 8:00AM - 5:00PM
Wednesday 8:00AM - 5:00PM
Thursday 8:00AM - 5:00PM
Friday 8:00AM - 5:00PM
Saturday 8:00AM - 4:30PM
Sunday Closed